Back to blog
About Us
Washington Business Journal: Dweck Properties, undergoing an 'evolution,' ramps up activity in National Landing, near Amazon HQ2
July 26, 2023
Check out the article below published in the Washington Business Journal on July 24th, 2023. Read the article on the Washington Business Journal's website here: https://bizj.us/1qj36x
By 
Dan Brendel
 – Staff Reporter, Washington Business Journal
Dweck Properties Ltd. is gathering steam as a competitor to JBG Smith Properties (NYSE: JBGS) in the redevelopment of National Landing, with plans to consolidate and expand acquisitions and development activity in Northern Virginia.
Dweck's been around for decades, having become a major apartment owner and manager, with nearly half of its roughly 7,000 units now in National Landing. In 2021, the company undertook what Andy VanHorn, Dweck's president and chief development officer, called in a recent interview a new "evolution" — that of an active, fully integrated developer, "unlocking value on our sites," such as through major renovations and infill additions. We sat down virtually with VanHorn and Robert Vaughan, Dweck's head of development, both of whom moved from JBG Smith to Dweck in 2021, to learn how that new evolution has been shaping up.
All in all, not unlike JBG Smith, Dweck is actively consolidating in Northern Virginia, between Arlington and farther down the Virginia Railway Express commuter corridor, through Woodbridge, VanHorn said. Having sold Willard Apartments in Chevy Chase and The Shay in D.C.'s Shaw, Dweck now has concentrated all of its apartments in Northern Virginia, except for one property in Annapolis, with no plans to acquire anything in the District or Montgomery County, he added.
"We really believe strongly in the Amazon story" and the "rail story" that's related to it, VanHorn said. That rail story includes, among other things, major VRE and Amtrak improvements anticipated in Northern Virginia, such as a new station in the works in Crystal City in connection with Amazon.com Inc.'s (NASDAQ: AMZN) HQ2, the first phase of which recently opened. It also entails the commonwealth's $3.7 billion Transforming Rail in Virginia, which Amtrak's website describes as "the expansion of the Northeast Corridor into Virginia, creating a vital connection between the Northeast and Southeast corridors."
"We find that our properties that are on VRE, multiple ones, have significant amount of ridership," VanHorn said. He believes commuter rail will continue to be attractive, not least because HQ2 at full buildout won't have enough parking for the 14,000 employees it's anticipated to attract. While hopefully a lot of those new employees would live close enough to walk or ride bikes to work, many will want to "live slightly farther away and not drive every day, because they're not going to have access to parking, or they don't want to sit on [Interstate] 95," snarled in traffic, VanHorn said.
That puts Dweck into a competitive sphere with another dominant developer in the National Landing neighborhood, VanHorn's and Vaughan's own former employer. JBG Smith has in recent years shed D.C. and Maryland properties and focused two-thirds of its total portfolio in National Landing, where it also serves as the lead developer for the HQ2 campus and Virginia Tech's nearby $1 billion innovation graduate campus. Two of its multifamily projects are now under construction in National Landing: a total 1,583 units and nearly 58,000 square feet of retail space spread between 1900 Crystal Drive and 2000 and 2001 S. Bell St.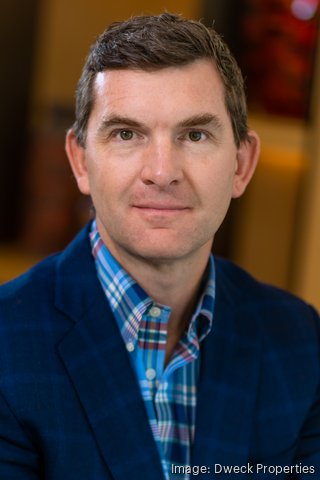 For Dweck, VanHorn and Vaughan told us about four projects in the works in Arlington, in various stages ranging from Arlington Board-approved to nascent conceptual noodling.
The developer won approval in June for its first-ever ground-up project — the infill development of two new buildings, one residential mixed-use and the other retail, about 233,000 square feet in all, on parking lots between existing apartment towers at 1600 S. Eads St., immediately south of Amazon's Metropolitan Park buildings.
Next up is a new 403-unit, 413,000-square-foot residential mixed-use tower at the northeastern corner of Dweck's Crystal Plaza site at 2101 Richmond Highway, for which Dweck submitted an application to the county's planning department in May. The developer expects comments back from county staff "in the next month or so," after which the proposal would begin its journey through the county's Site Plan Review Committee process "probably later this fall," Vaughan said.
Dweck's "likely next development opportunity," Vaughan said, would entail infill at Horizon Apartments, a pair of 1960s-era apartment buildings at 4300 Langston Blvd., which Dweck reacquired in the spring of 2022, having already owned and sold it previously. Regaining the property was a good deal "even at a higher price," VanHorn said, because Dweck now has the capacity to "unlock the surface parking lot" with new construction, something on the order of 10 stories, as well as to upgrade the existing buildings.
"Between those two [investments], we can drive a significant amount of value now with our new platform that we couldn't" before, VanHorn said.
Dweck's forthcoming development application for Horizon would "follow on the heels" of the Arlington Board's anticipated adoption of the Langston Boulevard Area Plan, perhaps by the end of the year. That plan — for which a county study formally kicked off in 2019 and a draft was just published in June — would serve as a high-altitude land use policy framework to guide future development along the whole stretch of Langston Boulevard, roughly between Rosslyn and I-66.
A possible fourth development for Dweck could play out at Rosslyn Heights and Rosslyn Vue, 1980s-era apartments at 1804 N. Quinn St. and 1851 N. Scott St., respectively.
"I would say there's something in the pipeline there," VanHorn said, though "it's scale and timing is TBD."